Photographer Rob Hann talking about his process shooting pictures on the American road.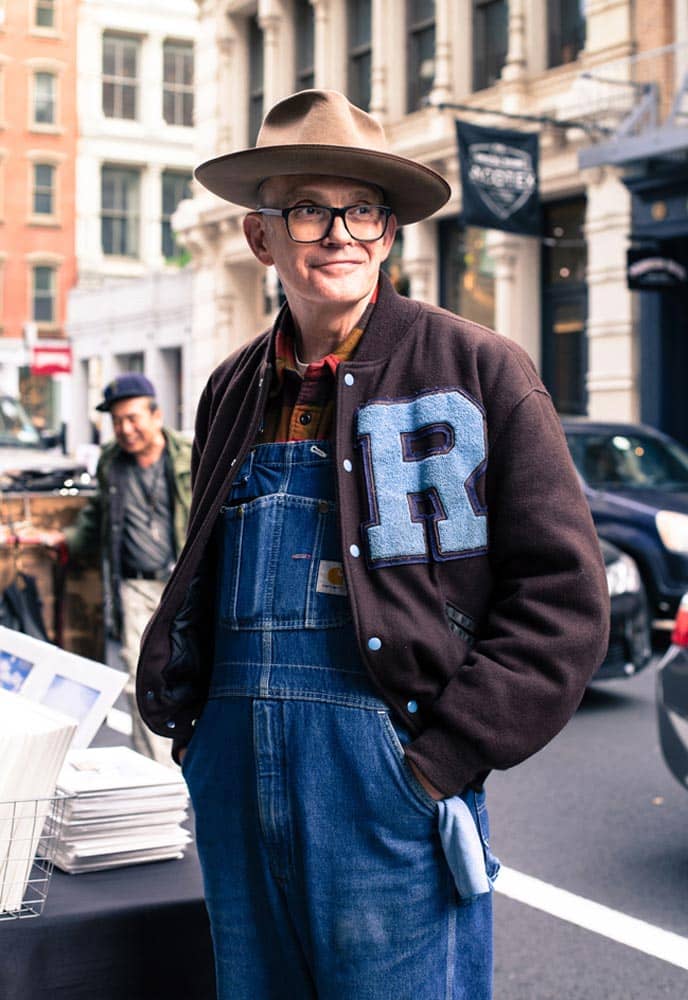 Details
b. 1954, Salisbury, UK
Rob Hann exploring the spaces in between.
One dark and rainy winter's night in 1999 I sat at home in London watching a tv show called "This is Modern Art". The presenter was driving on an empty road under a clear blue sky near the high desert town of Marfa, Texas. He was talking about the artist Donald Judd. It was very beautiful and I thought "I want to be there". In October 2001 I flew to Los Angeles and drove a rental car through the desert states of the American Southwest to Marfa and then back again following a different route. I travelled with my camera and a bag of film and took photos along the way. It was a thrilling experience. That trip and those photographs were the beginning of this body of work. When I returned home I was pleased with the photos and I thought I could make a book but needed to take one more trip to complete it… Almost seventeen years later, having moved to New York City in 2003, and after a great many more road trips, driving thousands of miles, this is that book. The mythology of the American road first started to take hold of my imagination in the mid 1970s through reading books, listening to records and watching movies. Now driving those endless roads, camera by my side, I'm still searching for that mythic country… and sometimes finding it. I'm not documenting the brutal creeping sprawl of corporate America. I'm seeking the magic that still exists in the spaces in between.
British photographer Rob Hann began his career in 1993 shooting portraits for magazines and record companies. Today he is based in New York and acclaimed for his landscape photography portraying the American west. Drawn by the open spaces, Hann took his first solo road trip with a camera in 2001 and since then "The Great American Road Trip" has been his main subject. His images represent the landscape's boundless grandeur while life on a human scale intervenes with its humorous mundanity and quirks. Funny road signs, mysterious objects and installations located in the middle of nowhere. Hann is a master at capturing this in stunning, colourful compositions.
Hann's work is found in the permanent collection of London's National Portrait Gallery.
He has worked for established magazines and newspapers such as The Times Magazine, Monocle and The Telegraph and his work is included in the book Landmark: The Fields of Photography published by Thames & Hudson in 2014.
Hann's first book, Diesel Fried Chicken, was published by The Artist Edition in 2018.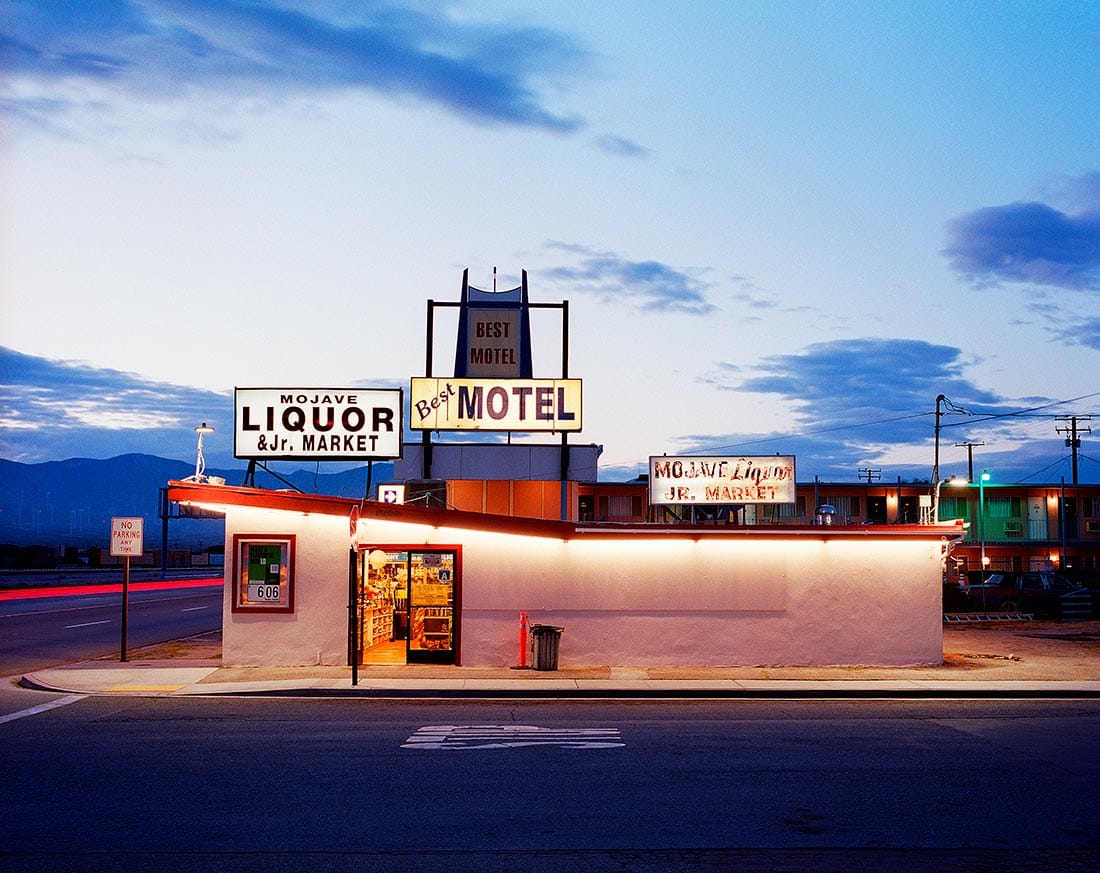 Rob Hann, Liquor & Jr Market, Mojave, CA 2020
Archival pigment print, paper size 40 x 50 cm/15,7 x 19,7″ image size 27,94 x 35,56 cm/11 x 14″
At the age of three I climbed through a hole in the garden fence and headed off on my tricycle to visit my grandmother's house a few miles away. It was my first road trip.
Later in life I became a photographer and, in 2001, took my first solo road trip with my camera in the American west. I knew I'd found my subject. Since then I've moved to New York City and take to the American road whenever I get the chance. I'm not documenting the brutal creeping sprawl of corporate America. I'm seeking the magic that still exists in the spaces in between.
Rob Hann, Liquor & Jr Market, Mojave, CA 2020
Archival pigment print, paper size 40 x 50 cm/15,7 x 19,7″ image size 27,94 x 35,56 cm/11 x 14″
Rob Hann, Dream TV, Bombay Beach, CA, 2020
Archival pigment print, paper size 40 x 50 cm/15,7 x 19,7″ image size 27,94 x 35,56 cm/11 x 14″
Rob Hann, Tucumcari, New Mexico
Archival pigment print, paper size 40 x 50 cm/15,7 x 19,7″ image size 27,94 x 35,56 cm/11 x 14″
Rob Hann, Old Station, California
Archival pigment print, paper size 40 x 50 cm/15,7 x 19,7″ image size 27,94 x 35,56 cm/11 x 14″
Rob Hann, Highway 131, Utah
Archival pigment print, paper size 40 x 50 cm/15,7 x 19,7″ image size 27,94 x 35,56 cm/11 x 14″
Rob Hann, Bombay Beach, California
Archival pigment print, paper size 40 x 50 cm/15,7 x 19,7″ image size 27,94 x 35,56 cm/11 x 14″
Rob Hann, Highway 90, Texas
Archival pigment print, paper size 40 x 50 cm/15,7 x 19,7″ image size 27,94 x 35,56 cm/11 x 14″
Rob Hann, Green River, Wyoming
Archival pigment print, paper size 40 x 50 cm/15,7 x 19,7″ image size 27,94 x 35,56 cm/11 x 14″
Rob Hann, The Great Salt Lake Desert, Utah
Archival pigment print, paper size 40 x 50 cm/15,7 x 19,7″ image size 27,94 x 35,56 cm/11 x 14″
Rob Hann, Interstate 80, Utah
Archival pigment print, paper size 40 x 50 cm/15,7 x 19,7″ image size 27,94 x 35,56 cm/11 x 14″
Rob Hann, Highway 89, Arizona
Archival pigment print, paper size 40 x 50 cm/15,7 x 19,7″ image size 27,94 x 35,56 cm/11 x 14″
Rob Hann, Highway 421, Oklahoma
Archival pigment print, paper size 40 x 50 cm/15,7 x 19,7″ image size 27,94 x 35,56 cm/11 x 14″
Rob Hann, Ice cream truck, Bonneville Salt Flats, Utah
Archival pigment print, paper size 40 x 50 cm/15,7 x 19,7″ image size 27,94 x 35,56 cm/11 x 14″
Rob Hann, Bonneville Salt Flats, Utah
Archival pigment print, paper size 40 x 50 cm/15,7 x 19,7″ image size 27,94 x 35,56 cm/11 x 14″
Rob Hann, Pop, Dubois, Idaho
Archival pigment print, paper size 40 x 50 cm/15,7 x 19,7″ image size 27,94 x 35,56 cm/11 x 14″
Rob Hann, New Orleans, Louisiana
Archival pigment print, paper size 40 x 50 cm/15,7 x 19,7″ image size 27,94 x 35,56 cm/11 x 14″
Rob Hann, Hachita, New Mexico
Archival pigment print, paper size 40 x 50 cm/15,7 x 19,7″ image size 27,94 x 35,56 cm/11 x 14″
Rob Hann, Interstate 10, New Mexico
Archival pigment print, paper size 40 x 50 cm/15,7 x 19,7″ image size 27,94 x 35,56 cm/11 x 14″
Rob Hann, Interstate 10, New Mexico
Archival pigment print, paper size 40 x 50 cm/15,7 x 19,7″ image size 27,94 x 35,56 cm/11 x 14″
Rob Hann, Marathon, Texas
Archival pigment print, paper size 40 x 50 cm/15,7 x 19,7″ image size 27,94 x 35,56 cm/11 x 14″
Rob Hann, Amarillo, Texas
Archival pigment print, paper size 40 x 50 cm/15,7 x 19,7″ image size 27,94 x 35,56 cm/11 x 14″
Rob Hann, Groom, Texas
Archival pigment print, paper size 40 x 50 cm/15,7 x 19,7″ image size 27,94 x 35,56 cm/11 x 14″
Rob Hann, Soda Lake, California
Archival pigment print, paper size 40 x 50 cm/15,7 x 19,7″ image size 27,94 x 35,56 cm/11 x 14″
Rob Hann, Needles, California
Archival pigment print, paper size 40 x 50 cm/15,7 x 19,7″ image size 27,94 x 35,56 cm/11 x 14″