Beware of the Dog Pound. Crowds gather in the front yard before T.C.I.Y.F show.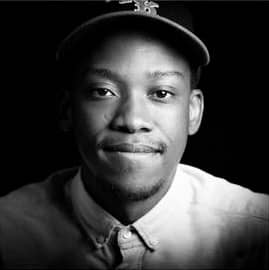 Details
b. 1989, Johannesburg, South Africa
Karabo Mooki photographer and artist from South Africa.
His passion for photography developed through his eye for observation and capturing moments in time that depict a mood or an era in places that are unfamiliar to my everyday life. Being able to explore and have stories to tell from exploring different regions and cultures, allowing himself to and utilising the world as his paint pallet.
What got him interested in photography was the visual art of skateboarding, being able to capture this aggressive and simultaneously graceful sport on and off of the board immediately stole his heart.
His obsession and curiosity would lead to a world of infinite creativity and documentation.
Mooki emphasises a focus on portraying the truth in his imagery, a truth that his audience can connect with emotionally.
Mooki welcomes his viewers to discover spaces that cultivate the spirit of resilience .
"Dogg pound days are over." tells a story about punk rock and skateboarding and how it is keeping the youth inspired, unafraid of pursuing their dreams, in an environment that is not receptive to "white music and white sports", without public scrutiny or fear of being stereotyped. This movement is something that Mooki has documented through the lives of the gatekeepers of the punk movement in Soweto.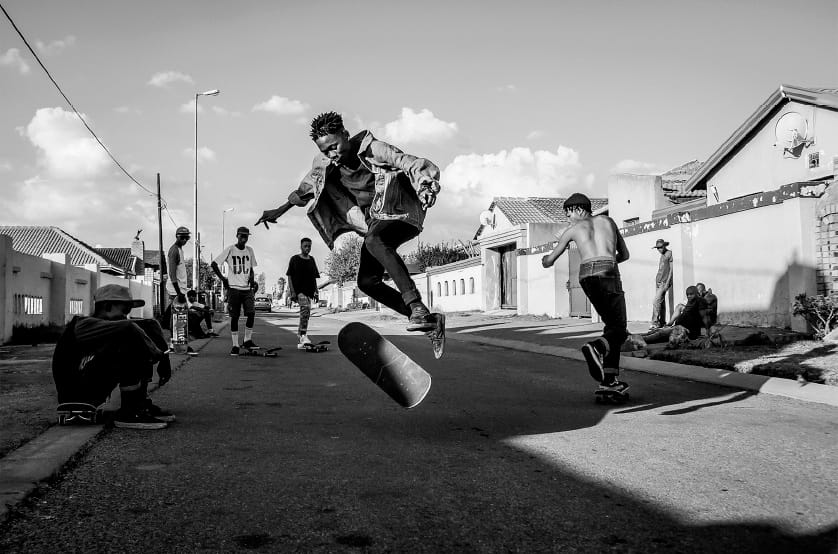 Karabo Mooki, "Fatherless Kids", Dube, Soweto, archival pigment print, paper Size 42 x 59,4 cm/16,53″ x 23,38″ Edition of 6 +2 AP
Karabo Mooki, "To live and die", Dube, Soweto, archival pigment print, paper Size 42 x 59,4 cm/16,53″ x 23,38″ Edition of 6 +2 AP
Karabo Mooki, "Destroy It Yourself", Dube, Soweto, archival pigment print, paper Size 42 x 59,4 cm/16,53″ x 23,38″ Edition of 6 +2 AP
Karabo Mooki, "The Dogg Pound", Dube, Soweto, archival pigment print, paper Size 42 x 59,4 cm/16,53″ x 23,38″ Edition of 6 +2 AP
Karabo Mooki, "Drifting away", Dube, Soweto, archival pigment print, paper Size 42 x 59,4 cm/16,53″ x 23,38″ Edition of 6 +2 AP
Karabo Mooki, "Beware of the punk", Dube, Soweto, archival pigment print, paper Size 42 x 59,4 cm/16,53″ x 23,38″ Edition of 6 +2 AP
Karabo Mooki, "Fuck it, I've never done it.", Dube, Soweto, archival pigment print, paper Size 42 x 59,4 cm/16,53″ x 23,38″ Edition of 6 +2 AP
Karabo Mooki, "The kids are alright", Dube, Soweto, archival pigment print, paper Size 42 x 59,4 cm/16,53″ x 23,38″ Edition of 6 +2 AP
Karabo Mooki, "Rockville Lives", Dube, Soweto, archival pigment print, paper Size 42 x 59,4 cm/16,53″ x 23,38″ Edition of 6 +2 AP
Karabo Mooki, "Spot hunting in the hood", Dube, Soweto, archival pigment print, paper Size 42 x 59,4 cm/16,53″ x 23,38″ Edition of 6 +2 AP 
Karabo Mooki, "Passop", Dube, Soweto, archival pigment print, paper Size 42 x 59,4 cm/16,53″ x 23,38″ Edition of 6 +2 AP
Karabo Mooki, "Backyard Burnout", Dube, Soweto, archival pigment print, paper Size 42 x 59,4 cm/16,53″ x 23,38″ Edition of 6 +2 AP 
Karabo Mooki, "Gin & Fights", Dube, Soweto, archival pigment print, paper Size 42 x 59,4 cm/16,53″ x 23,38″ Edition of 6 +2 AP