INTERVIEW Joseph Rodriguez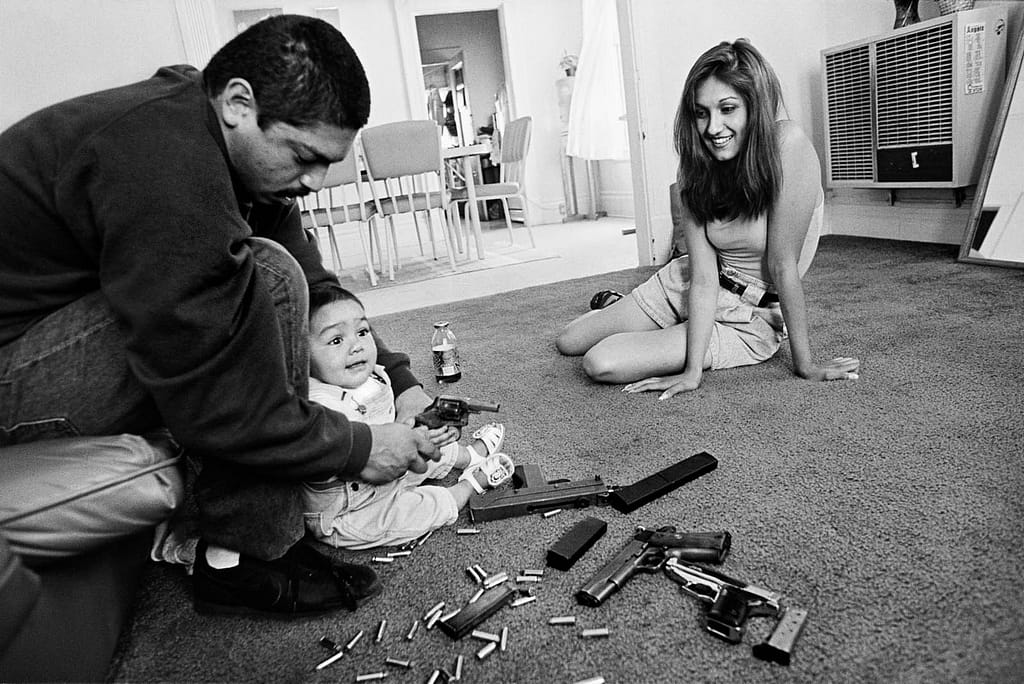 Joseph Rodriguez in his own words
by Steen Sundland & Katrine Rantzau
Since he started taking pictures in earnest in the 1980s, Joseph Rodriguez has been one of the most important photojournalists in the U.S. His landmark books "Spanish Harlem", "East Side Stories" and "Juvenile" have helped redefine the outlook on Latino culture, keeping a focus on  marginalization and American violence – gang-related as well as structural and systemic – but always with an intimate angle that stays sympathetic with his subjects. Known for his long-term commitment to his projects, Rodriguez has been able to achieve a level of intimacy that's rarely seen in photojournalism. This approach carries through to his international projects from Iraq during the first Gulf war and Romania post-Ceausescu. I was lucky enough to be able to interview him about his background, inspirations and work.
"As a child I was always interested in the cinema, the cinema was the big picture show. Back then I didn't understand the art of photography, it was an escape from the dark living of my home – of my mom and my stepfather and him being a heroin addict. Leaving the house was a way to be free, and to be free, well, a lot of us go to the cinema to forget the problems and we go into the screen.
That cinematic screen became something that I would think of as a foundation for me, not knowing where this was gonna go. I loved the image and the story. As I grew older, I was looking for adventure. Becoming a teenager became problematic for me, the situation in the house became very tense, my brother was born and I went into the streets.
It was also a time of rock n' roll, the hippie movement, the Vietnam War protests. I started to associate with socialists. Issues were being talked about through music, you know, Bob Dylan, Marvin Gaye. That was our generation: to question, not to trust. Then I got caught up in the drug scene and went to prison at Rikers Island. When I got out of Rikers Island I knew I needed to fix a couple of things. As an addict, I needed to control the addiction. I tried different programs and in the end went on methadone. While I was on methadone I got my high school diploma back and studied really hard to get into university. I was very young at that time, only about 20 years old. I got a job working at a factory, and one day, on my way home from work at the factory I was walking through Fort Greene to Clinton Hill. At that time, it was a predominantly African- American community, no hipsters. That day, I ran across a small museum, the Brooklyn Children's Museum. There was a black and white photography class that was being taught by an African-American photojournalist called Beuford Smith. He became this guy who opened up the world of photography to me.
The camera became the new drug to me, a positive addiction. I became a taxi driver while I was in school. When I was working as a taxi driver, I used to take pictures, but I was not brave enough. I'd take pictures through the windows, but I was not really close to my subjects. I was kind of shy, afraid of people at the time, I was just coming off methadone. So I saw the city as somebody passing through. I used the taxi almost as a fixture to get to the story. I remember seeing Lewis Hine at the Brooklyn Museum when I was 14 years old. I was enamored by the social realism, i wasn't really interested in the art, I was interested in the reality. August Sander and Weegee  also inspired me, because of his strength, you gotta be a tough motherfucker to do that kind of work.
Anyways, I ended up getting mugged, my camera was stolen and that was that. Then I became a bicycle messenger.  That was about 1981-82. I studied graphic arts in college. When I came out of school I started to work for a printing house.  After leaving the graphic arts industry, I got a job with a friend who was in the art moving business, we started moving Basquiat  and other artists' paintings. One day, we went to a gallery in Soho to move some art, and Larry Clark was laying all his work out. I walked up to him and said that I really connected with all of his work. He said: "If you are serious about photography then just go and make pictures," and that was it. Then I started taking classes at the International Center of Photography and eventually I got a scholarship and graduated in 1985. From there it was on. That was a very important time for me, that opened up the doors.
My first paid assignments were for The Village Voice. Before that I had been an unpaid intern at Black Star Photo Agency. We had Eugene Smith's work there, a lot of National Geographic's photographers and a lot of the older black and white photographers. I was very hungry to learn and I used to go through the archives in the evenings when I was off work.  Black Star noticed that and they began to give me little baby assignments – "go shoot this billboard, go shoot this NY magazine".
Meanwhile, I was shooting Spanish Harlem on my own, and they didn't know that. That's when I met Jessica, my first wife. She said: "You know what, you gotta leave". She introduced me to the Swedish photographer Anders Petterson's work, and I'm like "Fuck this, man, I need to get outside". I told Blackstar I was gonna leave, and they were like "What are you doing?" I told them about my project, and that's when everything went really fast, because Blackstar was impressed. There was a fair amount of work and a lot of intimacy, because I spent two years on the project. I went to Howard Chapnick, he ran the Blackstar Photo Agency and he was also a judge with the World Press Photo, he was an important man in photojournalism. He sat me down with National Geographic one day and they liked the work. They said: "Why don't you just do 50 rolls of film and then we'll see what you can do". I was about to move to Sweden with my wife who was pregnant at the time, so I was working my ass off for a couple of months. Then when I was in Stockholm I got a call from National Geographic, they liked my work and flew me back to New York and set me up for six weeks at the Plaza Hotel. That was in '88, right after my girls were born. I started shooting, shooting, shooting. I started working with a writer, but he wasn't very good. He had a very prejudiced, racist approach. When you grow up a certain way, you see people a certain way, and that is the case for a lot of white people in America when it comes to the "other".
The project ended up going on for about five years. I went to the Smithsonian National Museum of American Art, now it's called the American Art Museum, and I said: "I don't see any pictures of us Puerto Ricans here", and in a way, I think they felt a little guilty. I was also one of those photographers who was pushing for an impact of Latino representation, that was about 1990, a lot has happened since. We are a pretty sizable community even though we are still a minority, that's why we have all this blowback from Trump etc. The world is not gonna be white anymore. You can see, a lot of the projects I've been involved in since are related to that issue.
When I do an assignment I like to go deep. I prefer to work with families, be it in Kurdistan, Mexico or Los Angeles, I like a humanistic approach. In my world, the drama is always in the face, the eyes.
I've seen a lot of injustice in my world as a child when I grew up, and when you live and see that injustice – I ended up taking up the camera and turned the negative into a positive. I should have been dead, i got friends who have died from violence, AIDS, you name it. You can show the problems but also honor the humanity through photography. I am not doing this for the art's sake. Photography is very therapeutic for me. I'm not naive, I'm not here to save the world. But it saved me. As a child, I never was seen, I never had a voice, photography gave me that voice. I wanted to be seen, to be loved, for people to care about me, even though it's very narcissistic and selfish – however, most artists are that way. Part of my problem is that I used to live in Sweden. I can see what life is like there, what it could be. Then you´re in America, Puerto Rico: no jobs, no security. It drives you nuts.